Marine Travel
Ride - don't drive - to the beautiful English Riviera.
Dear Marine Traveller
What a complicated year this has been with Covid 19 however the opportunity has come to 'Break Free' of this horrible situation.
I am writing to reassure you and let you know that we have been busy and no expense has been spared to make you safe for your September and Autumn holidays:-
· Socially distanced NEW Marine Travel coach
· Surgically cleaned for each trip
· Extra spacing between each pair of coach seats
· Socially distanced holidays at the Livermead House with suitably spaced lounge seating, dining and Rose Garden Terrace.
· Separated/staggered meal times served in a Covid safe manner
· Numerous hand sanitising stations throughout all areas of the hotel
· Screens to the reception and Bar
· New policy on safe accommodation – rooms are your undisturbed 'Bubble'
· New One way system in the hotel to avoid 'cross overs'
· Enhanced cleaning regime
· Masks to be worn when moving around the hotel.
· The same caring team but trained by senior health officer to follow Covid safe best practice
For these last five months we have been locked down, imprisoned at home by an invisible enemy, so now is your chance to break free but be safe and get back to living life, not letting it be destroyed by the 'Chinese Virus'. Enjoy a September break or celebrate Christmas early with a Tinsel in Torquay, shopping holiday.
Should you wish to call us we shall be happy to advise and help, and we will do our utmost to protect you during your next holiday to the Westcountry.
Yours Sincerely
Tim Rew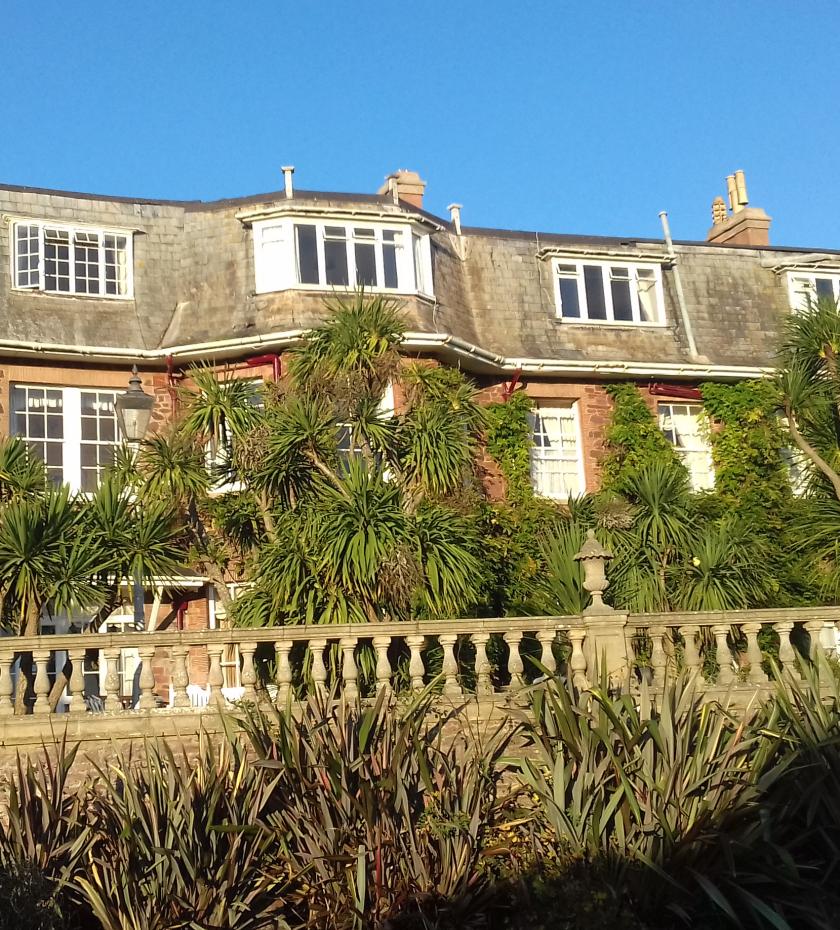 Marine Travel Booking Form

Find our booking form here!
Pick up points
Download the Marine Travel 2020 pick up points PDF.
All Marine Travel Breaks Include
Many of the Bays attractions are close at hand and within easy walking distance you will find the Town Centre, Harbour, Marina, Beaches, Theatre and the beautiful Torre Abbey Gardens.
You will also be able to visit those further afield on our Marine Travel scheduled excursions.
Not far from our Hotel is the famous thatched Cockington Village with it's Manor, Craft Centre, Forge, Award Winning Gardens, Ponds, Woodland and Olde World Pub.
When you have seen the sights you can relax in the Hotels luxurious bars and lounges or take advantage of the leisure facilities which include a heated outdoor swimming pool, (June to September), sauna, solarium, squash, snooker or just enjoy the 2 acres of award winning landscaped gardens.
The evenings are also a pleasure with sumptuous 4 Course dinners and regular entertainment throughout the year. The hotel boasts a varied and extensive menu to suit all tastes.
The convenience of local pick up points close to you.
An extremely comfortable journey in one of our fully equipped, luxury Marine Travel Coaches.
3 Star accommodation at the Livermead House Hotel situated on the seafront in the heart of Torbay.
Two varied excursions, Including one full day and one half day.
//only show on 'book a show round' and 'request a brochure' pages ?>